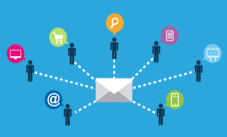 Integrating Digital and Direct Marketing = Win-Win Strategy
As the US continues to move towards reopening businesses across the country, there is no denying changes in consumer behavior and, conversely, the marketing landscape over the past year. Telecommuting and remote work became increasingly the norm throughout the country, which had the secondary effect of consumers relying more on online and other digital services to complete life's daily chores and tasks instead of travelling outside of their homes.
The pandemic also led to major changes in the United States Postal Service, as the organization moved to adapt to the drastically reduced mail volumes and reduced speed.
This perfect storm of events resulted in a huge boom for digital advertising and marketing, as it seemed like everyone – even the kids – were on their computers or mobile devices. Companies saw considerable success in attracting new customers during this time, and while it would be safe to assume that digital marketing is here to stay, that does not mean you should overlook traditional direct mail as an effective marketing strategy.
The rise of digital marketing has also led to the saturation of digital marketing, and everyone can agree that constant marketing emails, popup ads and promotional content playing before your favorite cat videos can feel overwhelming. Direct mail can connect with audiences in what has been considered an old format, but now on a refreshingly new level.  – It can  help bolster your digital engagement efforts.
Direct mail can give your marketing the personal touch that is lacking in many digital marketing pieces, and it could be the key factor to get your audience to engage with your digital programs.
A personalized postcard promoting an online app or service stands out against a standard digital ad, and with more consumers staying home now due to remote work, there's a higher chance that your piece will be seen.
Including a QR code in the piece can provide a quick way for consumers to access an online page or platform, and now that smartphone manufacturers are integrating QR code reading capabilities into their hardware, it is more convenient than ever.
Of course, this isn't a one-way street. Digital marketing can also help your direct mail as well.
Unlike in the past, it isn't feasible, let alone smart strategy, to send direct mail pieces blindly. Costs will run too high, and the ROI will not be worth the money or effort. However, using first-party data collected from a digital campaign, such as an opt-in or signup form, can prove incredibly valuable for successful engagement.
For example, if a digital campaign collects a user's birthday information, it can be used for a personalized direct mail piece, whether it be a simple birthday greeting or an exclusive offer to help celebrate. Address information allows you to accurately target customers that are interested in your products or services, reducing the chance of a Return to Sender and saving money from wasted postage and shipping charges.
What's The Next Step?
If you want to successfully launch a direct mail campaign, you need a trusted partner that is with you each step of the way. Redi-Mail's direct mail marketing solutions can help you manage your programs from inception to completion, backed by the latest equipment and technology, and a staff with over 20 years' experience in the industry. We pride ourselves for providing the best value for your direct mail marketing efforts, as well as comprehensive solutions for printing, digital marketing and list services. If you would like to learn more or receive a free consultation, contact us today.