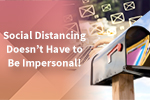 Social Distancing Doesn't Have to Be Impersonal!
With the COVID-19 pandemic still being a serious situation across the world, social distancing has become an everyday aspect of life. It's not surprising, then, that people are beginning to feel the effects of isolation and loneliness, especially for the 36.48 Million people living on their own. During this time, communication is important between friends and loved ones.
While the world is connected via the Internet, and there is no denying how useful and convenient online messaging and emails can be, communication can be seen as impersonal. After all, think of how many emails you get in your inbox every day. According to Statista, 293.6 Billion emails were sent and received each day in 2019, and that number is expected to reach even higher by 2023. Social media is also even more of a popular form of communication now with the pandemic, however considering how fast-paced it is, and how fleeting messages can be, it's more than likely your message will get lost under the pile of others.
When you want to add a personal touch when connecting with the people you care about, you should consider sending your message via direct mail. There is still a recognition of genuine effort and care when receiving a handwritten note, knowing that the sender took the time to write out a personal message. This not only applies to interpersonal correspondences, but also businesses as well. Everyone receives junk emails, but a personalized postcard or brochure that can be physically held and read stands out.
If you would like to learn more about how Redi-Mail can assist you in your communications during this time of social distancing, contact us for a free consultation.