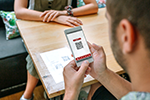 QR Codes Dos and Don'ts
QR Codes—you may know them as intricate, maze-like boxes with several sporadically placed black squares throughout. But to marketers, they're much more.
QR, or "Quick Response" codes add a digital dimension to physical objects and print media, encoding complicated and lengthy URLs that would be otherwise tedious to key by hand. When used correctly, QR codes offer an interactive way to gain audiences' attention and drive brand engagement.
Check out our Do's and Don'ts for using QR codes in your marketing.
Do's
Provide simple directions to accompany your QR Code
Let's face it—not everyone is familiar with QR codes. If unfamiliar, these codes could potentially intimidate consumers. Overcome this barrier by providing relatively simple instructions to educate your consumers and encourage further action. A simple statement such as, "Learn more by scanning the QR code with your mobile device" or "Download a QR Code reader application for additional insight and information!" can go a long way in driving engagement.
Implement QR Codes in your print media
What better way to link your print and digital media? Add a QR Code to your business cards, brochures, magazine advertisements, and promotional material to add some interaction to your print. Appeal to the growing mobile consumer audience by making your content easily accessible without having to search via search engines.
Use QR Codes to check people in at your event
Get your event off to a good start and make a good first impression on attendees by allowing them to check-in using pre-printed or mobile device QR codes. This convenience not only scores major points with your attendees, but accelerates the entire registration process. After all, who likes waiting in line?
Create a compelling call to action
Whether its an incentive, contest, or offer, your QR code must have a clear call-to-action—to give consumers a reasons to scan your code. Simple offers such as behind the scenes video content, exclusive interviews, free downloads, or just weekly tips are simple ways to get consumers scanning your codes to access additional content.
Don'ts
Release a QR Code without testing it
Failure to test your QR Code for optimal use on multiple platforms is a huge risk to your company. It's essential to make sure your code takes your consumers to the correct link before printing it on thousands of flyers. A non-functioning code serves no purpose and will ultimately hinder customers attempting to scan your code.
Place a QR Code out of reach
Using a QR Code on a billboard or short television commercial is essentially worthless. Nobody driving at highway speeds will have enough time to scan your code in passing, and commercials provide a mere matter of seconds for your consumers to take action. When considering placement of your QR code, make sure your codes are easily accessible to and within reach of your audience.
Put a QR Code in locations with limited/no Wi-Fi or data access
Simple enough— QR codes on materials that will be distributed and/or used in locations with limited or no access to Wi-Fi severely limits the ability to scan or process your code. Instead, plan your uses accordingly, taking Wi-Fi hotspots and community areas into account.
Link your code to non-mobile content
If you fail to optimize your mobile experience, customers scanning your codes with their mobile devices will ultimately be deterred from your site. Give these consumers the best experience possible, ensuring your code points to a mobile website, as opposed to a standard, desktop-based site.
While QR code implementation is initially complex, the results are ultimately rewarding. Do you use QR codes in your marketing? Integrate mobile into your print media and prepare to engage!
Trust Redi-Mail for customized printed pieces with tailored headlines, artwork, photos, offers and calls to action to help your business make a lasting impression on your customers and clients.
Redi-Mail…Delivering Exceptional Value