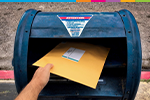 Get Ready, USPS Pricing Changes May Be Imminent
While the 2021 pricing for USPS postal rates are now in effect, there may be another price increase incoming.
At the January 26th Mailers Technical Advisory Committee, Postmaster General Louis DeJoy, announced that a second increase was "imminent."
DeJoy stated, "As you know, the Board of Governors will determine the timing of future pricing increases and no decisions have been made at this time. However, as I have previously stated, last year we charged $70 billion for services that cost us $80 billion to provide. We cannot continue down this path and think that we will remain a viable service to the American people."
When asked when the increase would occur, he said, "I think it's imminent, but I don't have a firm date yet."
On January 15th, the new postal rate system was entered into law, allowing the USPS to file another pricing increase in the Spring.
This could mean pricing increases for postage rates and products such as Marketing Mail flats and Periodicals may be increased on top of the increases put into effect earlier this year.
Here at Redi-Mail, we can provide the best value for your direct mail marketing efforts. We will provide the best prices for setting up and deploying your campaigns, reducing your overall costs, and saving you money, even with the postage increases.
And now with the recently announced Delivering for America campaign bringing major changes to the postal system, we will make sure your campaigns run smoothly and ensure your marketing messages reach the right audience at the right time.
With the latest technology and equipment, backed by a veteran team with decades of knowledge in direct mail marketing, we will help you manage your campaigns from start to finish. Contact us today for a free consultation with one of our direct marketing experts.