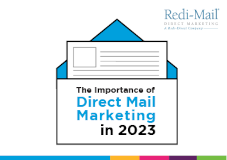 The Importance of Direct Mail Marketing in 2023
Lately, there has been a great deal of conversation about "privacy" with much of the focus on email privacy. In the U.S., laws have now passed in Connecticut, Colorado, Utah, Virginia and most notably, California. With the California Privacy Rights Act (CPRA) now in full swing, many states are following their lead in a quest to embolden consumers to request further compliance of direct marketers regarding the marketed use of consumer data.
It is possible that compliance with these laws may soon be required as we move toward a global privacy platform. As we continue to see individual state privacy mandates pass into law stateside and abroad in countries like Canada; privacy should be top of mind for all marketing professionals in 2023.
Consider stepping back to what is still the most established, private way to communicate with your target audience – direct mail. Redi-Mail is here to help as an essential business providing time-sensitive assistance for alert mailing communications during these uncertain times. Our New Jersey based USPS Lettershop will continue to proudly serve our customers through all of 2023's challenges and changes.
With employees heading back to the office, you can once again reach your target market with a relevant and compelling message, offer, or call to action.
Break through the clutter of overflowing email inboxes and reconsider direct mail marketing as a component of your next multi-channel outreach program to high-value responders. Contact us today and learn how Redi-Mail can enhance your direct mail strategies.