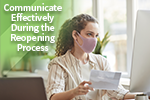 Communicate Effectively During the Reopening Process
The COVID-19 crisis has had an unprecedented impact on businesses and our way of life. "Business as usual" has been disrupted, and we've all had to adapt to the "new normal" of living in a world requiring social distancing and increased health and safety precautions and regulations. With businesses now reopening, this situation has not changed, and it's imperative to let your customers and clients know your organization's current situation, and what the plan is moving forward.
Since every industry has different needs and responsibilities, it is important to determine what you want to communicate. Here are some questions to consider when determining the messaging of your communications:
Will your business re-open soon, and if so, will your operating hours be different?
If your business has been "essential" during the lockdown, do your customers/clients know that you are currently open?
What products and services are you offering during these times?
What precautions are you undertaking to ensure the safety and health of your customers/clients?
Another aspect to consider, is how to get your messaging in front of the correct audience. Since many people are still working from home and limiting travel, it is important that your communications reach them there. Direct mail and email communications are highly effective in this situation, but it is key that these forms of communication are being sent to current and relevant addresses.
Redi-Mail is here to help with your reopening communications during these uncertain times. Our direct mail marketing solutions will help you convey your messaging to the right audience in a timely, cost-effective matter. If you need assistance with creating your direct mail piece, our print solutions are available for creating customized content that fits not only the needs of your business, but the needs of your recipients as well. If you decide to conduct an email marketing campaign, our digital marketing solutions uses the latest technology and media to ensure your messaging stands out and lands in your audience's inbox and not their junk folder. No matter what type of campaign you decide to hold, Redi-Mail can help you reach your ideal audience with our comprehensive list services, leveraging some of the highest quality postal and email lists available.
If you would like to learn more, contact us to speak with one of our marketing experts.