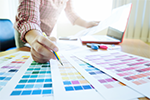 Variable Data Printing: Taking Your Print Project to the Next Level
Cost-effective, fast, and increased quality, variable data printing (VDP) provides endless options for eye-catching collateral and mail pieces. Even more so, it works seamlessly with multichannel campaigns and adds a touch of personality, fun and innovation to every project. With so many possibilities, where do you begin? Check out 3 ways variable data can take your next print project to the next level.
Make it personal
Applying VDP to marketing plans, enables organizations to personalize promotional material for individual consumers. Leveraging consumer data, include names, addresses and images that are most likely to resonate with consumers and make an impression. Personalized mail pieces yield higher response rates and build rapport in both B2B and B2C settings.
Don't call it a Comeback
VDP is a great tool to revitalize consumer relations and reel in inactive customers. With past purchase history or data on purchase behavior, VDP provides an opportunity to address coupons and unique offers to specific consumers, driving relevancy and value. With the ability to personalize messages, you can shift from addressing an old pain point to a new one making it easier to reconnect with consumers.
Introductions are in order
VDP can be used to introduce and promote new products and services. With VDP you can create personalized QR Codes which lead to landing pages tailored to specific consumer needs. Customize your mail pieces with consumers' names, and images that will grasp their attention for maximum impact.
Variable data printing is a huge asset to marketing and omnichannel campaigns. Create value, garner high response rates and generate a one on one connection with returning, current and prospective consumers using VDP. The creation of relevant, personalized messages can dramatically increase the effectiveness and response to printed communications. Redi-Mail's variable data printing is the perfect solution for multichannel marketing campaigns.
Redi Mail…Delivering Exceptional Value