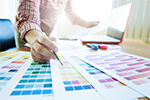 Variable Data Printing and Direct Mail, So Happy Together
Recent studies show that a majority 86% of shoppers report that personalized marketing impacts the likelihood of them making a purchase. Furthermore, 75% of consumers report being more likely to make a purchase from a retailer that recognizes them at the individual-level and can make recommendations based on purchase history.
The stats don't lie—personalized direct mail pieces and marketing efforts are at the forefront of successful campaigns. Variable data printing (VDP) is a cost-effective form of digital printing that enables copy, images, colors, graphics, and even offers to be customized—all in a single print run. By segmenting and personalizing pieces based on each recipient's interest, location, or any other relevant information, VDP handles the first step of any successful mailing—getting the readers' attention.
Deliver Value
Unlike mass marketing communications, VDP enables marketers to develop stronger relationships with customers by delivering more personalized messages that are in-line with their actual needs. By leveraging content that is relevant and unique to each prospect, marketers can bring added value to messages, differentiate themselves from competitors, and foster longer-term customer relationships.
Increase ROI
With the average prospect getting bombarded with hundreds – sometimes thousands – of emails, personalized communications can drastically improve response rates and overall campaign results. By inserting unique barcodes, coupons, or other identification methods in direct mail pieces, marketers can easily monitor response rates and measure the results of their investment. While traditional mail pieces garner an average response rate of 2%, personalized pieces achieve response rates as high as 6% – a 300% increase.
Decrease Costs
By sending targeted direct mail pieces to a more narrow audience, marketers can eliminate the expense of mailing to prospects that are least likely to be  interested in your offer, determined by past purchase history and behavior. Variable data printing enables marketers to print thousands of unique pieces at mass production rates, making marketing relevant, fast, and cost-effective.
Everyone is different – shouldn't your marketing be? Redi-Mail's variable data printing is the perfect solution for multi-channel marketing campaigns. Through the use of state-of-the-art technologies, Redi-Mail produces personalized messages and imagery driven by data elements including demographics, gender, lifestyle preferences, financial and purchasing history.
Redi-Mail…Delivering Exceptional Value