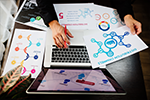 The Year of Content Marketing
From artificial intelligence to virtual reality and now, even virtual assistants – it's easy to believe we're witnessing the age of technology. However, it's really the age of content. In recent years, the methods by which consumers engage with content has transformed and investments in content are paying off like never before. In fact, according to a 2017 benchmarks and trends report, more than 60% of B2B marketers report that their content marketing strategies are more effective today than last year. 2017 has undoubtedly been a successful year for content marketing – so what's next? Here's what we can expect to see in 2018.
Investing in Talent
Content is continuing to move beyond just blogs and other written pieces. The content process is constantly evolving and adapting to new formats that are popular amongst today's consumers. To accommodate these different formats, companies will continue to invest in people with talents such as video production and editing, graphic design, illustration, and content distribution and optimization. In 2018, we will continue to see investments being made in these strategies, with an increased emphasis on hiring qualified individuals that can generate content for each platform out there.
Supporting the Buyer Journey
The buyer journey can be broken down into three stages: The Awareness Stage, The Consideration Stage, and The Decision Stage. In 2018, companies will shift their focus from top-of-the-funnel content to content that supports each one of these unique stages in the buyer's journey. Prior to creating content, companies will need to identify what stage their audience is in the buyer journey and align those steps with their place in the marketing funnel to deliver the most relevant content possible.
Video Goes Live
Video content has arguably been the most important marketing trend over the past three years – and the trend shows no sign of slowing. In 2018, marketers and customers alike will embrace the next step – live video content.  In a recent survey, 80% of respondents said they would prefer to watch a live video than read a blog post, while 82% were more interested in watching live video than reading social media posts. Working with live video captures both the attention and engagement of audiences and will be an even more important tool to use in branding in the new year.
Leveraging "Smart" Technology
With sensors, device pairing, and proximity marketing, customers are no longer limited to a single screen when consuming content. The Internet of Things is moving content from the screen, while interactive visual content is capturing the attention of audiences with augmented reality and virtual reality capabilities. Artificial intelligence has also become a daily reality for many consumers, with virtual assistants such as Siri, Alexa, and Cortana becoming the norm in recent years. With all of these breakthroughs, marketers will continue to find new ways to apply "smart" technology toward their marketing campaigns to deliver personalized, interactive customer experiences.
Shift in Focus to Transparency
With consumers becoming increasingly wary of branded content, transparency has become just as important as the content itself. Prominent millennial consumers are more progressive and expect companies to be more authentic, transparent, and dedicated to giving back to society. Beyond millennials, consumers overall want this same transparency. Instead of struggling to disguise branded content, companies need to foster lasting trust and focus on remaining transparent and open in their marketing strategies.
2018 is shaping up to be the year of content marketing – so now is the time to act. With extensive in-house capabilities, including digital print, personalized direct mail, specialty, fulfillment, postal and email lists, Redi-Mail can help you get your content noticed and into the hands of your best prospects.
Redi-Mail…Delivering Exceptional Value