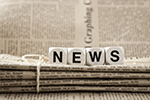 The Power of the Newsletter (and E-Newsletter!)
Extra, extra, read all about it! With a seemingly endless number of channels to deliver marketing materials and content to targeted audiences, today's marketers have the world at their fingertips. However, at the same time, the competition for consumer attention has climbed to new levels. Tried-and-true and packed with relevant content, newsletters are easily shared and passed along by subscribers. Cost-effective and targeted, e-mail newsletters are a great way to tailor messages to your audience and ultimately increase your bottom line. Explore below some of the many powers of the newsletter (and e-newsletter) and see how newsletters can enhance your marketing strategy.
Increase Brand Awareness
Continually putting your business in front of your audience helps drive brand awareness and keep communication lines open for new, current, and past customers. By sharing relevant, interesting content with your audience regularly, you'll be able to stay top-of-mind, build credibility, and gain exposure.
Establish Your Expertise
Sharing valuable, informative content through quality newsletter writing enables your business to position itself as an industry expert. Newsletter content will inevitably contain interesting coverage of relative industry topics and helps prospects, publishers, reporters, and referral sources see you as the expert you are.
Build a Brand Community
Newsletters can be viewed as a gateway to an exclusive community of a brand's most valued subscribers. More exclusive than blogs and other media, newsletters make readers feel like they are getting first-hand information directly from the source, while staying ahead of the curve and gaining some type of competitive advantage.
Maintain Customer Relationships
The strongest relationships between businesses and their prospects and customers are the ones that are consistently maintained over a sustained period of time with two-way engagement. Regular value-added newsletters can help keep your business fresh in your customers' minds and on their radars. Newsletters also provide an opportunity to seek feedback or input from your audience.
Target Communications
The people who subscribe to company newsletters really want to receive them. Subscribers are great to target because they have already expressed an interest in your company, your messaging, and services. If they've been waiting for the right time to take action, you stand an excellent chance of capturing additional business with regular communication and newsletter updates.
According to the Content Marketing Institute, 83% of B2B marketers take advantage of email newsletters to drive content marketing. What are you waiting for?
Take advantage of the many powers of newsletters and team up with Redi-Mail for end-to-end solutions including digital print, personalized direct mail, specialty fulfillment, and postal and email lists to get your message in front of the right audience.
Redi-Mail…Delivering Exceptional Value