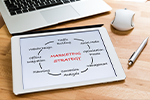 Redefining Direct Marketing Strategies for 2018
That big crystal ball in Times Square may have already dropped, but January is not the time to let those you're juggling hit the ground. Start the year off with a resolution to refresh and redefine your direct marketing processes and tactics to keep business popping like your favorite bottle of the bubbly stuff. As buying and technology trends continue to evolve, here's what you'll need to consider in 2018.
Show me the data. A better understanding of the information that your company currently owns can better-inform marketing campaigns and communications for better results. Know your customers by analyzing your data and identify your best strategies from there. The new year is also a great time to refresh your lists and ensure data integrity. As the calendar turned from '17 to '18, your contacts may have changed roles, taken advantage of deals on the latest smartphones, or jump-started personal resolutions. This means greater opportunities for your company, if you have the right contact information.
The year of personalization. Today's CRM analytics are more powerful and easier to use than ever before. Take advantage of the insight to plan more impactful campaigns. Based on that analysis, marketing pros can take a more targeted approach to communications, with offers, content and messages that are specific to both macro and micro audiences. This approach can also be effective for nurturing and retaining current customers based on past purchases, and current needs.
Cast your nets with varied gauges. Powerful marketing campaigns not only include a number of communications that nurture leads over time; companies now need to consider the ways in which they share those messages – whether over the phone, mobile, direct, and/or email. Build and supplement lists with contact information that will help you target your audience over various media. Ensure your email messages and approaches are optimized for recipients on both PCs and mobile devices. What's more, a mixed-media approach can complement personalization strategies if your contacts share their communication preferences.
A wider world of wellness. In 2018, expectations are high for the booming healthcare industry. With nurse practitioners and physician assistant (PA) jobs growing and personalized fitness and health awareness becoming a growing trend with the help of wearable technologies, there are more opportunities for organizations to market within the industry. The time is right; so start with a comprehensive and high quality list to ensure you don't miss out.