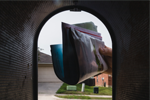 Innovations in Tracking Mail
With a wide range of digitized metrics, there is a multitude of ways to track your digital marketing efforts – but let's not forget about offline marketing! New innovations are sweeping the offline world as well. With the latest breakthroughs in postal processing, both senders and recipients alike are reaping the advantages of tracking outgoing mail and incoming deliveries.
For Senders:
Previously known as IMb Tracing, Informed Visibility® Mail Tracking and Reporting is a near real-time, single source for all mail and mail aggregate tracking information. End-to-end mail tracking information for letter and flat pieces, bundles, handling units and containers provide marketers with the latest scan-event to anticipate delivery and incoming responses. Understanding patterns in delivery allow for adjustments in drop dates so marketers can ensure messages arrive at the right time for optimal response. Knowing where the mail is, mailers can more tightly coordinate multi-channel programs by using expected delivery dates to trigger pre-arrival or follow-up calls, emails or text messages.
For Recipients:
A free, optional notification service, Informed Delivery gives residential consumers the ability to digitally preview incoming letter-sized mail pieces and manage packages that are scheduled to arrive soon. In automating, sorting and delivering mail, the USPS digitally images the front of letter-sized mail pieces that run through automated equipment and uses the images to provide digital notifications. With USPS Tracking® updates, users can view what is coming to their mailbox, re-schedule arrival dates, and provide delivery instructions – even while travelling – from a computer, tablet or mobile device. This latest service has the potential to become a valued touch point for marketers as well, as companies can track consumer behavior and develop a clearer picture as to how recipients engage with certain brands.
Who says you can't track direct mail?! Redi-Mail's intelligent barcodes and Informed Visibility provide cutting-edge tracking, analytics and reporting capabilities that yield visibility into outgoing and return mail from the time it drops until it reaches its last USPS destination.
Redi-Mail…Delivering Exceptional Value