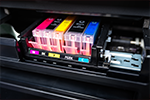 Innovations in Ink
With the average ROI for direct mail campaigns now between 18-20%, it is no wonder why an increasing number of marketers are reinventing their campaigns to include direct mail. However, it's important that your mail piece stand out…let's make it count! Think outside the box—or cartridge— and consider some of these new innovations in ink.
Conductive Inks
Conductive inks become part of a circuit to activate a device. By mixing ink with carbon, copper, or silver, a wire is formed for an electronic device. These inks can be used to generate a noise, open an application, or even light a bulb and can be used to create cutting edge interactive content while calling attention to your company or offering.
Thermochromatic Ink
Made from heat sensitive dyes, themocromatic ink changes color in response to variations in temperature. Whether they go from colorful to colorless, colorless to colorful, or alter altogether from one color to another, these inks are eye-catching and possess infinite lifecycles.
Photochromic Ink
Clear at first, photochromic ink darkens to color upon exposure to UV light. These inks add excitement and visual appeal to campaigns and promotions and are an ideal way to grab the attention of prospects and hold onto it as they wait to reveal the hidden message when exposed to light.
Piezochromic Ink
Composed of dyes that alter upon exposure to compressive or tensile forces, piezochromic ink changes appearance under pressure. The dyes shift the frequency of absorbed light, changing the color the viewer sees, making for captivating pieces.
The key to getting your mail piece to stand out and your message to resonate is to excite your customers. Whether its activation, heat responsive, light responsive, or pressure responsive, reactive inks deliver a 'wow' factor needed to get your piece noticed in any mailbox.
At Redi-Mail, it's our business to make your business look great. With over 20 years' experience and in-house capabilities, trust Redi-Mail for the latest direct marketing and print solutions.

Redi-Mail…Delivering Exceptional Value