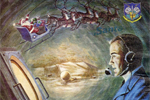 Get Home for the Holidays with IMb Tracing
We all know how the song goes…"There's no place like home for the holidays…" So what happens when your greeting cards, mailings, and packages don't make it in time for the big day? In 2015, 15.5 billion cards, letters, flats and packages were sent during the holiday season, with thousands getting lost in transit. But it doesn't have to be this way! With IMb Tracing service from Redi-Mail, you can slip on your favorite holiday sweater and sip on your eggnog, assured of knowing where your important business mail is and when it will reach its recipient during the busy holiday mail season.
Piece level and package tracking data in real-time means you can sit back, relax, and truly enjoy your holiday season, while better aligning your business needs with delivery.
Hang your stockings, trim the tree, and leave the rest to IMb Tracing!
Ensure delivery within in-home dates
Know when your message reached your target
Coordinate multichannel programs by using expected delivery date to trigger pre-arrival or follow-up calls, emails or text messages
Spot possible fraud by identifying high-value mail content that fails to reach its destination, or resolve delivery discrepancies or other delivery issues with the USPS
Monitor and track customer communications automatically, including confirmation of all incoming and outgoing mail
The Holiday season is just around the corner. Tis the season for family, friends, good times, and of course, e-commerce. Don't let the stress of December deliveries dampen your spirit! Get HO-HO-HOME for the holidays just in the St. Nick of time!
Inexpensive, efficient and complete with state-of–the-art reporting, Redi-Mail can help you track the arrival of your mail to any address or recipient.