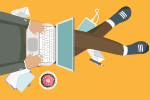 Email Marketing Hacks You Need to Know
With an estimated 269 billion emails being sent every day, trying to get your message noticed in busy inboxes is no easy feat. Before you hit send on your next email marketing campaign take a look at these email marketing hacks to increase the chances of connecting with your audience.
Write a Smashing Subject line
Why should your recipients open your email? Tell them! The subject line is the first thing your audience sees and can be the deciding factor as to whether or not they open your email. The secret to success – keep your subject lines short and sweet. Only include enough detail to get your consumer interested and leave the important or more detailed information in the email to pique their curiosity.
 Send them once, send them twice
Review the results of your email blast and send a second wave to contacts who did not open it. This provides another chance to get your message opened and acted upon. After all, an unopened email is essentially no different from a nonexistent once.
 Testing…Testing 1-2-3
One mistake can upend your campaign so drafting your email is a key to success. Enlist another set of eyes to proof it and before you send it out, make sure it renders across all platforms, including different sized computer and mobile screens. As a recommended extra step, conduct an A/B test on your email. Tedious as it is, this tip will ensure that your message gets across with little to no errors!
Call them to Action
Engaging consumers is a daily exercise in creativity and your email marketing campaign should be getting a good workout. Including a strong call-to-action (CTA) in your emails will invite consumers to take further action and drive engagement. Whether it is a sign up inquiry, a button or a link to your social media, a good rule of thumb is to have at least one CTA per email. Be sure to test different types to see which one yields the most click-through and open rates.
 Make it Personal
Direct marketing is all about connecting with people in a real way. And the best way to do that is to generate and deliver personalized, one-to-one communications. Leverage your database to add a truly personal touch using variable offers, graphics and images, and personalized URLS to address each recipient in the most meaningful way.
Email is a great marketing method to reach consumers, and if done correctly, can lead to an increase in sales and click-through rates. Redi-Mail's email deployment system features in-house servers and software, while employing best practices that keep you out of spam folders and get your message through.
 Redi Mail…Delivering Exceptional Value