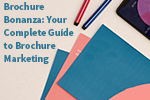 Brochure Bonanza: Your Complete Guide to Brochure Marketing
Even in today's technology-driven world, brochures remain one of the most wide-spread marketing formats—and rightfully so! According to a recent survey, 95% of visitors who pick up brochures become aware of a business. Even more impressive—83% plan to visit a business that they read about in a brochure.
Why Marketers Love Brochures
They're Versatile
Compact and lightweight, brochures are arguably the most versatile marketing tool you can use. Strategically placing brochures in a wide variety of locations allows your company to relay positive and accurate information and attract new customers.
They Build Credibility
Prospects and clients often want to see evidence of experience before doing business with a company. A brochure sets the tone of an established business with reliable credentials and dependable business practices. Plus, the additional space can be used to tell the story of your business or include a special offer.

They're Budget-Friendly
Brochures are extremely cost-effective as they only require the cost of printing. Providing a succinct summary of your business, products, and services saves time and money and conveys a deeper message than more expensive television or print ads.

Secrets to Success
Know What Your Reader Wants
It's all about them—write your brochure from your reader's point of view! Take into account any questions you think a potential customer might have, and offer answers to them in your brochure. When addressing these points, make sure the information unfolds in a logical order for extra clarity.
Give Them a Reason to Look Inside
The front cover is the first page of your brochure a reader will see—take advantage! Avoid the common mistake of using technical jargon and overused clichés. Instead, highlight the benefits or use thought-provoking statement that will make the reader want to open your brochure. You can even add a callout promoting something that will interest them inside, whether it be an exclusive invitation, free report, or special offer.
Tried and tested, brochures are a great way to spread brand awareness amongst prospects and build credibility among customers. So where to begin? Quality printing can help your business make a lasting impression on your customers and clients. With extensive in-house capabilities, including digital print, variable data printing, specialty fulfillment and postal and email lists, team up with Redi-Mail for the highest quality results at the most cost effective price.
Redi-Mail…Delivering Exceptional Value