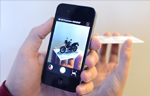 Augmented Reality for Direct Mail
With the number of mobile device users expected to reach 5.5 billion users—that's 70% of the global population—by 2020, it is no wonder that the consumption of digital media has reached an all-time high. Today's savvy consumers expect seamless brand experiences across both the physical and digital landscapes to accommodate their mobile, on-the-go lifestyles.
Augmented reality (AR) transforms everyday static direct mail and print pieces into interactive worlds complete with graphics, animation, video, audio, 3D content and more. With a user-friendly interface, instant gratification, and unsurpassed 'wow!' factor, AR is taking consumer engagement to new heights.
See why more and more companies are turning to augmented reality to elevate their direct mail.
It's All About Engagement
AR in direct mail pieces requires active engagement, as recipients use mobile devices to scan printed pieces and are taken to purchase products, watch instructional videos, share recommendations through social media, and more. The result is an increased engagement rate with average dwell times that are 2.5 times longer than other channels.
Offline Meets Online
Truly dynamic, AR extends the relevancy and lifespan of printed materials by sending people to additional digital and mobile content. The result is a more cohesive brand experience—a complete journey from offline to digital, in an innovative, memorable way. With just the hover of a device, recipients can automatically connect to your content, without the need to type in a lengthy URL.
Streamline the Conversion Process
With capabilities for 3D images and 360 degree views of products, AR provides consumers with complete insight to your products and makes them more likely to make a purchase. AR can add interactive, engaging experiences to any direct mail or print piece that drive recipients to landing pages, social channels, sweepstakes, instant redeemable promotions, and more.
Improve Performance
AR-enabled print enables marketers to receive real-time performance insights on offline marketing in more measurable and trackable ways than ever before. Data on interaction rates, click rates, and view durations provide insight into who accessed the AR content, when, from what device, and for how long.
When it comes to using Augmented Reality in direct mail, the sky's the limit! Take your direct mail to the next level today. With quality, eye-catching digital printing, variable data printing and end-to-end direct marketing solutions, let Redi-Mail manage your next program from start to finish with the latest in equipment and technology.
Redi-Mail…Delivering Exceptional Value