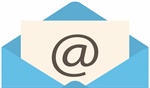 4 Main Components of an Effective Email
A recent study from Campaign Monitor found that for every dollar spent on email marketing, an average return on investment of $44 is realized. With this much potential, email is clearly a major part of a successful marketing strategy. And in today's digital world, you can't afford to get it wrong! So what separates a good email from the rest? See our 4 main components of an effective email.
Captivating Subject Line
Your subject line is the first thing your recipient will see. In fact, research shows that 33% of email recipients open the email based on the subject line alone. Keep it short and sweet and be sure to offer value that will entice recipients to open your email.
Mobile-Friendly
Recent stats indicate that up to 75% of emails are now being opened on a mobile device, depending on target audiences. Make sure your campaign features a responsive email design that caters to this pro-mobile space.
Strong Call-to-Action
Emails are a great way to direct visitors to your site, so long as your message compels subscribers to take action. Accentuate yours with a persuasive CTA placed above the fold, and within the visitor's eye path.
Measurable
Evaluating the performance of your email marketing efforts can help your business reach its full potential. Track and measure the effectiveness of your campaign to identify areas of success and/or opportunities for improvement.
Email marketing is an extremely cost-effective marketing method if executed correctly.
As a marketing professional, you need an email marketing service that you can trust—one that delivers your email and provides great value from concept analysis to everything in between. Redi-Mail's email deployment system features in-house servers and software, while employing best practices to keep you out of spam and get your message noticed.
Redi-Mail…Delivering Exceptional Value