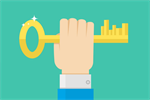 The Secrets to Offline Marketing Success
With 205 million emails, 500 million tweets, and 55 million status updates being sent every day, getting your message to stand out is no easy feat. So how can marketers ensure their messages are reaching their targets? The answer lies in thinking outside the box—the inbox, that is.
Check out our secrets to offline marketing success.
Benefit from Business Cards
For such tiny objects, business cards yield a huge potential! Take advantage by investing in well-made business cards that showcase your business and set them apart from the rest. Dare to be different with different colored cardstock or even changing the orientation to portrait—it's all about getting noticed! And once you perfect your business cards, distribute them everywhere. Whether you pass them out to neighbors and nearby businesses, pin them to public bulletin boards, or slip them into relevant books or magazines at the library or doctor's office, the possibilities are endless.
Direct Mail
Looks matter—what does your packaging say about your product and your brand? It may be time to refresh your look to ensure you're sending the right, relevant message to potential customers. Even in the age of email, snail mail is still an acceptable marketing method. You'd be surprised how many people prefer physical offers. Send coupons or new product updates, product samples, newsletters, or anything you think might promote your business the best. This is definitely a more personalized approach to marketing.
Network Your Way to Success
Even in the smallest towns, there are countless opportunities to build a business network. Create strategic partnerships with non-competing brands in your area and join local chapters of associations or organizations where your target audience is likely to be found. Nothing can replace face-to-face networking—being able to put a face to a name creates a connection between your brand and your customers.
Participate in Trade Shows
Trade shows present a great opportunity to showcase your products or services and market your company offline. Whether you're there to display or to sell, you will be able to generate quality leads in just a few days. Consider having a giveaway or prize up for raffle so that your target market will flock to your booth and offer free product samples or discount codes for each lead you collect. Before attending the show, make sure that your promotional materials match your objectives to make the most of your valuable time and resources.
Speak Up!
Professional conferences and events are effective for meeting new people and spreading brand awareness—they're even more effective when you speak at them. Speaking at industry events puts you and your brand in front of a highly targeted and interested audience that is already primed and ready to listen to your message. This is also a great way to build credibility and establish your brand as a thought leader in your respective industry.
With offline marketing techniques driving customer engagement and brand recognition, marketers should consider implementing offline tactics into their strategy.  With extensive in-house capabilities including digital print, personalized collateral, specialty fulfillment, and list services, Redi-Mail provides end-to-end direct marketing solutions that deliver results.
Redi-Mail…Delivering Exceptional Value