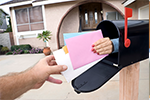 The Power of Know, Now
Ever wish you knew when your business mailings will be delivered?
Ever wish the U.S. Postal Service would provide you with a tracking system for your important mail outreach program? Are you ready to cost effectively increase your visibility into customer communications?  You now can when you enhance your business delivery mail methods with Redi-Mail.  Redi-Mail has been tested and recently announced approval by the USPS for IMb Tracing®, which provides clients with real-time tracking information on the delivery of their mail.  Redi-Mail's proprietary web-based tracking portal captures tracking information from the USPS in real time.  That means you can now track your business mailings sent through the USPS the same way you can track packages sent via FedEx® or UPS®.  It also means you can track inbound as well as outbound mail programs.
There are two types of services available:  Destination IMb Tracing™ and Origin IMb Tracing™.  As the name implies, Destination is for outgoing mail and provides you with advance intelligence on the length of time pieces will be in the mail and when it will reach its final destination.  Origin is for incoming mail and provides insight into when and where customers have mailed incoming reply pieces such as checks and return orders.
Inexpensive, efficient and complete with proprietary, easy to use state-of-the art reporting, IMb Tracing offers multiple benefits, including:
·         Identifying mail trends and adjusting drop dates to ensure that pieces arrive at exactly the right time
·         Integrating multi-channel campaigns to better synchronize with in-home direct mail delivery dates
·         Improving customer service follow-ups by accurately tracking outgoing and incoming mailings
Ultimately, the greatest benefit of IMb tracing is knowing.   Leveraging that knowledge will now enhance marketing efforts, reduce cost, and improve customer relationships.  Make the most of your business mailing programs:  learn how Redi-Mail is delivering exceptional value.