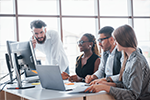 The Forces of Marketing: Push vs. Pull
Does your business employ a push or pull strategy? Do you believe that one is more effective than the other? We discuss push marketing vs pull marketing and offer some helpful tips to keep your strategy on-track.
With statistics revealing that 84% of 25 to 34 year olds are leaving their favorite websites because of intrusive or irrelevant advertisements, and approximately 86% of people are skipping through ads on television (Panorama), it seems more challenging than ever to reach customers and prospects. So how can B2B marketers be most effective when audiences expect you to understand their issues and speak their language? Whether you know it as Push vs. Pull, Outbound vs. Inbound, or Interruption vs. Attraction, these two marketing approaches are often compared when it comes to effectiveness, and ROI. The key to success is not necessarily utilizing one over the other. The answer lies in executing an approach that incorporates both push and pull marketing techniques to attract and appeal to various audience segments.
Push Marketing: "Broadcast your message to consumers"
A push marketing approach is necessary to maintain communication with current and lapsed customers and leads, as well as reach prospects who may be unfamiliar with your company. In this approach, you are literally pushing your information and desired message to the market. It thrives on mass communication that reaches a large market, whether it's consumers viewing commercials on television, reading print ads in their favorite publications, or passing a billboard on their daily commute. However, push marketing doesn't have to be impersonal and irrelevant. The most effective outbound marketing strategy leverages a robust database to include targeted emails and direct mail that utilizes variable data printing for personalized, relevant communications.
Helpful Tips
Take advantage of recent postal rate decreases to expand your direct mail reach within the same budgetary guidelines.
Plan events and speaking engagements, such as trade shows or conferences, to form relationships with prospects as you demonstrate your expertise.
Develop a communication plan that incorporates multiple channels to ensure you reach the right person at the right time with the right message in the right channel.
Pull Marketing: "Be readily available to your customers"
The pull marketing approach attracts those in the research or buying stages. Data indicate that by the time a B2B buyer first makes contact with your company, they have already completed anywhere between 50 and 90% of the buying process, depending on the product or service (Pipeliner CRM). The key to pull marketing is to insert yourself in a potential customer's exploratory process as they seek products or services to meet their needs. Inbound marketing typically employs a variety of online initiatives that pull the consumer in, such as blogs, outreach from influencers, and online ads.
Helpful Tips
Replace sales content with educational and informative content such as videos and infographics, so the customer feels educated about what services you provide and problems you solve.
Partner with PR to spread the word about your expertise and experience while conveying a positive image of your products and services.
Use social media as an online community to network, engage, and share content with followers.
Do you integrate both a push and pull approach into your marketing strategy? Are you working with a trusted and proven email marketing and direct mail partner to expand your business and attract new clients? Redi-Mail offers targeted direct marketing solutions to best serve your business. Redi-Mail…Delivering Exceptional Value.