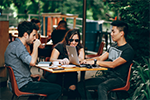 How to Successfully Market to Millennials Using Direct Mail
"No filter", "FOMO", "legit", "YOLO"…you may not know what they're talking about, but don't worry—they do. And with millennials projected to cumulate $1.4 trillion in buying power by 2020, you may want to consider learning their jargon (Target Marketing).
Born between 1980 and 2000, these consumers are the last generation of the twentieth century and the first generation to grow up in the so-called "digital age." As millennials are considered to be digital natives, marketers often make the assumption that digital marketing efforts are the best approach to reach them. However, with 90% of millennials reporting they find direct mail ads to be reliable and 57% reporting making a purchase as a result of a direct mail marketing initiative, it's time to rethink this assumption (Direct Marketing News). Evidently, millennials enjoy getting mail!
Is your current direct mail marketing strategy targeting millennials? Check out these tips to successfully market to and motivate these tech savvy consumers to respond to your mail.
Make a social statement
Milennials want to be the positive change in the world. In fact, 89% of millennials report being more likely to purchase from companies that support finding solutions to specific social issues (Pitney Bowes). Make your company an agent for change to appeal to these young consumers. Whether you use recycled paper, draw attention to social issues in your mailings, or pledge to donate to a cause for each positive response you receive, there are several efforts you can consider to showcase the goodwill of your company and influence millennials to read your mailings.
Emphasize individualism
It's not all about you…it's all about them! Commonly known as the "me, me, me" generation, millennials are constantly posting pictures and status updates on countless social media sites. To effectively market to millennials using direct mail, you must appeal to each recipient personally and explain the difference their individual contribution can make for your company. Individual personalization and customization increases mail engagement, driving two-thirds of millennials to make a purchase (IWCO).
Make a connection
Understanding the values of millennials is crucial for engagement. Make a connection with these young consumers and drive engagement by lining up your brand communications with their values. Share your passion for what you do and be consistent, responsible, and transparent to foster authentic relationships with these young consumers.
Design compelling messages
Millennials are highly visual learners. Implement vivid visuals, designs, and colors for eye-catching mailings that stand out among the rest. Enhance your mail pieces with QR codes and integrate your print with online content such as augmented reality, digital, and interactive elements for mobile device and tablet optimization.
 Let Loose!
80% of millennials find direct mail to be entertaining and want brands to entertain them (Heidi Cohen). Capitalize on entertaining millennial consumers by using humor and comedy in your mailings. Make millennials smile and engage with your brand by using funny images, jokes, and real life examples. After all, who doesn't love a good laugh?
The millennials are here! With a 75% of the global workforce projected to be comprised of millennials by 2025, you can't afford to ignore this up-and-coming demographic (Forbes). Target these young consumers in your direct mail efforts for increased brand awareness and ongoing communication. Get to know the millennials and team up with the experts at Redi-Mail for end-to-end solutions in digital print, personalized direct mail, specialty fulfillment, and list services.
Redi-Mail…Delivering Exceptional Value