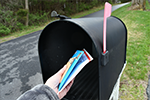 Freshen Up Your Direct Mail
Spring is in the air—which means it's time to breathe new life into your direct mail. Are you ready to watch your direct mail efforts bloom? We've got tips to freshen up your direct mail so you can reach your target audience effectively.
Variable Data Printing
Variable Data Printing (VDP) is a great way to add a personalized touch to your direct mail pieces. Leveraging your existing customer and prospect data, such as gender, geography, demographics, and buying habits, you can tailor unique print promotions and mail pieces that increase sales. Create stunning color materials with personalized headlines, text, photos, artwork, offers and more… for every recipient.
Product Sampling
Deliver your value—literally. Step it up a level and deliver samples of your products to your consumers' mailboxes. Providing small samples of your product and putting it into people's hands is a great way to encourage consumers to try your product and drive product recognition. While not every product can be shrunk down into a mailbox, it's important to take advantage of creativity. Always find a way to put something physical, or at least, visual in your direct mail pieces. The more creative you can get, the better the chance of sparking your targets' interests.
Go Big or Go Home
According to study from the DMA, oversized envelopes have the best response rate of any mailing format, at 5%. Evidently, in direct mail, size does matter. A large or oversized mail piece stands out in the mailbox and mail piles, yielding a higher chance of success. Consider using a larger flyer or envelope in your next direct mail campaign that's 8.5 x 11, or even as large as 11 x 14.
3-Dimensional Format
Give your recipients a mail piece they can get their hands on! Grab your recipients' attention with dimensional mail pieces that are not the envelopes or postcards that people are used to receiving, but ones that have added dimension, such as bulky items, boxes or tubes. Take advantage of pop-up mailers to add some weight to your pieces and specialty folds that require recipients to manipulate the piece, unfolding over and over again to reach the next page.
Add Technology
Tap into your techy side! With the line between print and technology beginning to blur, mail pieces are being injected with new technology that's evolving the way we view print. Add technology to your mailings with PURLs, QR codes, Augmented Reality, video, and more. QR Codes and PURLs are a great way to direct recipients to targeted online or digital resources, while Augmented Reality (AR) creates a fun user experience and truly makes your mail piece come to life.
Mixing things up can be a great way to stay fresh and relevant, even when sending to the same audience. At Redi-Mail, it's our business to make your business look great. With over 20 years' experience and in-house capabilities, trust Redi-Mail for the latest direct marketing and print solutions.
Redi-Mail…Delivering Exceptional Value
With over 20 years' experience and in-house capabilities, trust Redi-Mail for the latest direct marketing and print solutions.