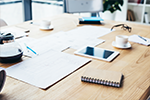 Direct Marketing Resolutions to Keep in 2017
Eat healthier, lose weight, spend less…sound familiar?  These are just some of the most commonly broken New Year's Resolutions year after year. So how about starting off 2017 with some resolutions you won't want to break? We've got 5 direct marketing resolutions to help make 2017 your most successful and prosperous year yet!
Resolution 1: Provide relevant, targeted content
We've seen the consistent rise and growth of content creation and distribution, making it a mainstay of modern marketing. In fact, 70% of B2B marketers plan to create more content in 2017 than they did this year (Content Marketing Institute and MarketingProfs). Amp up your content in 2017 by focusing less on quantity, and more on quality, with more target-specific content. Diversify your formats to keep your audience engaged with webinars, blogs, white papers, and case studies to deliver cohesive, consistent, content across all channels. Today's sophisticated technology enables endless opportunities to support content related programs and initiatives to drive brand awareness.
Resolution 2: Implement more video to your strategy
Visuals matter! Cater to even the shortest of attention spans with video. The most thoroughly consumed content format, video is engaging and generates ROI (HubSpot). The possibilities with video are endless, whether for showcasing live events, product demonstrations, panel discussions, or even "behind the scenes" tours and exclusive segments. Live streaming will continue to grow in the new year, presenting golden opportunities for hosting conversations and open forums in real-time, and delivering a stronger call to action. From segments to longer videos to live streaming, video will undoubtedly play a pivotal role in many 2017 B2B marketing plans.
Resolution 3: Personalize everything, and personalize often
Personalization will continue to be a major key to growing your brand in 2017 and developing stronger relationships with customers. Addressing your recipient by their name immediately captures their attention and drives engagement while setting a conversational tone and sense of familiarity. Beyond addressing each customer by name, personalization is about adding some personality into everything that you do and create. The more personal flavor your brand can add, the better!
Resolution 4: Achieve a customer central approach to marketing
It's the age of the consumer! In fact, by 2020, customer experience is expected to overtake price and product as the key brand differentiator (Walker Information's Customers 2020). This signifies major implications for how brands deliver their services and products going forward, but also for how they foster and nurture client relationships. Only about one-third of consumers feel they have a genuine connection with a brand, so there is huge opportunity for establishing bonds and strengthening relationships in 2017 (MLM Global Research).
Resolution 5: Channel your inner socialite
With innovative ways to distribute content, the social media empire will continue to reign in 2017 with Facebook, Twitter, Instagram, and Snapchat at the forefront. Constantly evolving and changing, social media presents new opportunities for sharing your content and messages. Take advantage of these channels by keeping up with updates regularly to make your social media pages truly interactive and create an ongoing dialog with your customers. With 78% of Americans reporting they have a social media profile, advertising on these platforms is a great way to reach mass audiences (Statista). In fact, social ad spending is projected to reach an estimated $35.98 billion, contributing 16% of all global and digital spend in 2017 (eMarketer).
Out with the old and in with the new! Ring in 2017 with direct marketing resolutions that will build strong customer relationships and elicit more leads and sales.
With over 20 years' experience and a full suite of in-house capabilities, Redi-Mail Direct Marketing delivers results. Trust Redi-Mail for end-to-end solutions to help you move forward in acquiring new customers and maximizing their lifetime value.