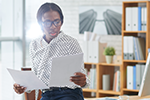 Common Direct Mail Mistakes to Avoid
Red-Mail's Director of Operations, Ryan Cosgrove, offers advice on how to maximize the success of your next direct mail campaign by avoiding these blunders.
Using bad or 'dirty' data.  Clean data is rule #1 in direct mail.  Unfortunately, it's estimated that as much as 25% of any house list contains dirty data. Old addresses, deceased recipients or the wrong names all conspire against you when it comes to deliverable mail.  Data processing to upgrade your lists to comply with current postal regulations, applying the latest NCOA (National Change of Address) changes, and deceased suppression processing are all essential for increasing savings, deliverability and response rates.
Forgetting your audience. Don't have a house list, or interested in supplementing it to cast a wider net?  Purchasing a postal list is a good option to increase your reach.  But remember, non-targeted mailing lists are what gives direct mail a bad name.  Not only does it costs you money, people who not interested in your message may classify your piece as junk mail, forever tarnishing your image in their mind.  Data experts can help you identify an ideal list based on a variety of factors, ranging from geographic to demographic to lifestyle variables.
Lacking personalization. Use as much personalization as possible to increase your response rate.  Personalization resonates because it immediately establishes relevancy, reinforcing your direct mail efforts.  Personalization is data-driven; if possible, don't stop at the name and include variable content and imagery that is relevant to your customer or prospect so that the contents are more engaging.  When thinking about execution, choose a vendor like Redi-Mail that understands direct mail personalization and can show you samples of variable data printing.
Forgetting a clear call to action.  If there is no call to action, your piece is merely brand recognition.  So, ask and you shall receive.  Be precise in the action you want the recipient to take, and then ask for it.  If there is a number to call or a website to visit, list the information and include verbiage that directs the reader to make the call or visit the URL.   
Contact Redi-Mail for your next direct mail campaign.  With extensive in-house capabilities, including digital print, personalized direct mail and postal/email lists, Redi-Mail provides the highest quality results.
Redi-Mail…Delivering Exceptional Value.